News & Events...

EVENT! Featured Reading by Dammit Author Anita Kulina at the Millvale MASH @ Grist House Brewing (10 E. Sherman Street, Millvale, PA), Monday, April 13 @ 7:30 p.m., 21 and over event. Come hear Anita read and discuss "Accounts Receivable" while enjoying a beverage, brewed or otherwise. Or share some of your own talent. For more information, click here.

Featured Retailer...

East End Book Exchange
(4754 Liberty Avenue, Pittsburgh) Used, rare and local books in Pittsburgh's East End. For more info, click here.

Stay Informed...

SIGN 'EM UP! Got a friend who might enjoy Dammit News? Forward it to them and encourage them to sign up by clicking here.

Find Us At...

Brandt Street Press
PO Box 8243
Pittsburgh 15217-0243
412-600-3806
brandtstreetpress.com
info@brandtstreetpress.com

Happy Spring, Dammit!
In this issue, Katherine Gross wonders whether stories
can be true, even when they seem not to be.
Stories: True or False?
by Katherine Gross
Stories are true. Stories are false. Here is my story.
When I was 12 years old, my mother began complaining of physical symptoms. She fell down the hill in our backyard while trying to pull the hose up to the bushes that lined the back of our house. She became convinced that she had injured her pituitary gland and that her hormones were affected because of it. She went to specialist after specialist, and each told her the same thing: there was nothing physically wrong with her.
---
Dammit author Nick Manfredo tells a chilling story
that scared him as a child.
The Dead Body in the Attic
by Nick Manfredo
Until I was about ten, we generally changed locations every year or two—or however long it took to get behind in rent and get evicted. We had lived in a succession of church subsidized housing, relatives spare rooms and "welfare barns" for as long as I had been alive. But now, we would be moving into our own house. My parents had worked out a deal by which they'd purchase the home my father was born in. His parents had owned it since WWII and were leaving Pittsburgh to retire to Florida.

The selling price was $11,000. Not much money, even for those days, the late 1960s. Still it was a stretch for a budget mostly governed by short periods of small-paying labor and longer periods of illegal income from petty theft, subsidized by welfare.

On the day we moved in, my aunt, who grew up in the house and was only four years older than I, took it upon herself to give me a tour and tell me the "secret history" of the house.

"Whatever you do, don't go up to the attic," my aunt said.
---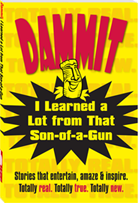 What happens when someone shares a story with us—a true story, a story from their heart-of-hearts?
We feel connected. We realize the commonality of our emotions. How we are, as human beings, all the same. We all falter. We all fear. We all stumble. And we can all come back stronger.
This book contains those stories.
www.dammitbook.com