NEWS! Click here to read the November 2015 Dammit News newsletter.
PRESS! Read the article on the Dammit Book by Dan Willis in Pittsburgh City Paper!
FEATURED RETAILER! Books now available at Carnegie Mellon University Bookstore (5032 Forbes Avenue Pittsburgh, PA)
Meet Our Authors & Read Samples of Their Stories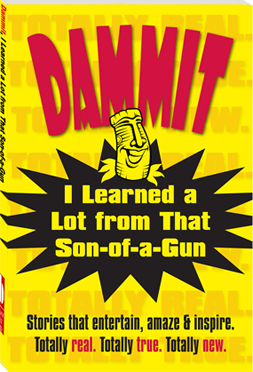 What people are saying...
"These stories are as compulsively
readable as popcorn in a scary movie!"

Sue Stauffacher, Children's Book Author
"A quick and riveting read, one with
which you'll be happy to have spent time."
Drey Samuelson, U.S. Senate Chief of Staff

"You'll find yourself turning around,
perhaps glancing over your shoulder."
Patricia Menick, Sculptor & Installation Artist


"Read one, you'll come back for more."
Ron Steffens, Educator/Author/Forest Firefighter
THE AUTHORS
(click a name to read samples)

Bill Collins • Mike Connell
Katherine Gross • Douglas Gwilym
John Highberger • Anita Kulina
Laura Lind • Nicodemo Manfredo
Cindy McKay • Judi Resick-Csokai
Seth Roskos • Scott Bradley Smith





P.O. Box 8243
Pittsburgh, PA 15217-0243
www.BrandtStreetPress.com
info@brandtstreetpress.com

Book Design by Mike Murray, Pearhouse Productions
AUDIO BOOK NOW AVAILABLE!
Hear all you favorite stories read by authors and actors!
Trade Paperback
Wow!
For a limited time:
Free shipping & handling!
We pay the sales tax!
Ebook (Kindle, Nook, iPad, etc.)